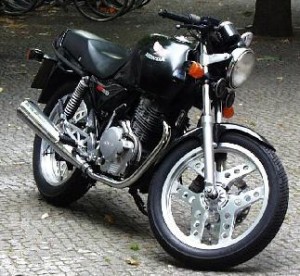 People from all walks of life envy the freedom of the open road that can only truly be experienced on a motorcycle. Whether you're looking for a new way to connect with friends or prefer to go the route of the lone wolf, a motorcycle can be a source of lasting pleasure in your life — one you definitely want to make sure is properly insured.
Unique Insurance Concerns for Motorcycles
The number one insurance concern that is somewhat unique to motorcycles is the need for additional medical insurance coverage. Unlike cars, there's nothing to come between you and the road in the event of an accident.
Watercraft accidents occur in the water, which often softens the blow (not to mention you generally wear life jackets while jet skiing). Motorcycle accidents though, generally involve extensive medical attention in the aftermath that go well beyond the typical accident maximum.
Trip interruption protection is also available from some carriers. This policy covers meals, transportation expenses, and lodging, when you're involved in a collision and more than 100 miles from your home.
Aftermarket Accessories and Parts Protection for Motorcycles
Aftermarket parts and accessories protection is also very important to most bikers who make modifications to their bikes as soon as they get a chance. Motorcycles, for many people, are an extension of themselves and bikers often go out of their way to personalize their machines. This can become an expensive proposition and traditional insurance only covers the initial value of the bike — not the sum of all its parts.
Aftermarket protection allows you to buy additional insurance to help you recover the investment you've made if your bike is damaged or destroyed.
The Usual Insurance Suspects
This doesn't mean that you don't need the traditional coverage types with motorcycle insurance, however. You still need the general bodily injury and property damage coverage for liability, comprehensive and collision coverage (to cover theft, vandalism, and other acts of nature), uninsured motorist coverage, medical payments, and more. You just need a few additional policy options due to the nature of motorcycle travel and the risks that go along with it.
At NT Able Agency we understand the risks of motorcycle travel and the need for a plan that has you covered near and far. Call us today and let us help you create a plan that meets your motorcycle insurance needs today and in the future.
Photo Credit: Wikimedia